Понеділок, 01 жовтня 2012, 17:54
Середа, 12 вересня 2012, 19:50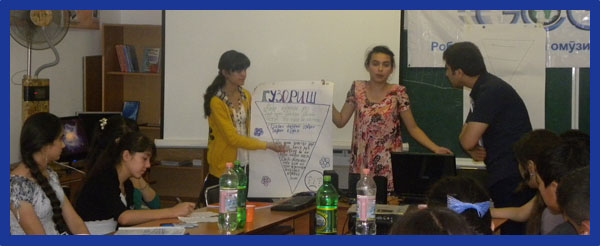 Newsflash #303, July 5, 2012

Seeking Partners: iEARN Projects and Activities
Electronic School Magazine: Partners in the Gambia
Join Magical Moments Around the World
New Project: My Birthday- A Historical Day
Special Needs Student in Japan wants to Communicate with English Speakers
Submissions are now open for 2012-2013 iEARN Project Book
Resources, Contests, Websites and Announcements
New Country Coordinators in Tajikistan
Local History Project E-Book in English and Chinese
Finding Solutions to Hunger project has a New Feature
Survey: ""Collecting Stories of Extreme or Informal Learning."
Reminder: New iEARN Collaboration Centre Dates to Remember
Upcoming Events
iEARN-Arabia meeting in Doha, Qatar
Recent Events
Malaria Project on National Television in Botswana
Seeking Partners: iEARN Projects and Activities
Electronic School Magazine: Partners in the Gambia
iEARN-Gambia educator, Poncelet Ileleji, is participating in his local YMCA after school program with students ages seven an up. The students will be creating electronic magazines about their school, the environment and emerging technologies from their perspectives, hopes and aspirations.  The project started at the end of June and Poncelet is looking for other schools or classrooms interested in collaborating with his students via the Electronic School magazine project forum.  Electronic School Magazine, facilitated by Mutasem Mafarjeh in Palestine, is an international collaborative project for students of all ages to create school magazines around issues of their interest and share their publications globally. School magazines are a great tool for encouraging various academic and creative skills within students.
To collaborate with Poncelet and/or join the Electronic School Magazine Project visit the forum via the iEARN Collaboration Centre
---
Join Magical Moments Around the World
This traveling collaborative book, facilitated by Gal Kleinman in the United States, aspires to unite us all through written words, images and shared experiences. Gal writes, "[Magical Moments around the world] is "dedicated to showing that all humans share a unique spirit connecting us all. It's about inspiring feelings of compassion and understanding between human beings and the realization that we are an integral part of the natural world."
This is great way for your students (ages eight and up) to use their creative writing skills and experience being part of an intergenerational global community. Some exciting plans for the project this coming year include an annual magical moments day festival at schools and public places around the world. Visit the project website to read a samples submissions.
Click here to join Magical Moment Around the World and Submit your stories via the iEARN Collaboration Centre
---
New Project: My Birthday, A Historical Day

Nazima Jabeen, at Beaconhouse School in Karachi Pakistan has designed a new project that allows your students to study historical events on a day they are sure not to forget – their birthday! The project, for ages five to sixteen will be on-going throughout the year.  Nazima is looking to get started on the project with partners from around the world.
In the Teacher's forum along with her project announcement, Nazima provides some tips for ways in which educators can approach the research they do with their students and also encourages participants to use social media to enhance their collaboration. This a a great oportunity for your students to research events on their own, and learn first-hand from their peers about important events in their own country and around the world on their special day.
To join the project, My Birthday, A Historical Day. click here to visit the Teachers Forum and write to Nazima
---
Special Needs Student in Japan wants to Communicate with English Speakers
Recently posted in the iEARN Teacher's forum is a message from iEARN-Japan country coordinator, Yoko Takagi asking educators to encourage their students to post in the iEARN Youth Forum and communicate with a high school student, Seiya,  from a special needs school. The school does not offer a program to send students to university, so they are doing practical job training and writing about their experiences. Please have your students log on and communicate with Seiya. He will greatly appreciate hearing from his peers around the world who can share their own experiences and encourage him with his English.
Click here to have your students visit the iEARN-Youth Forum and write to Seiya
---
Submissions are open now for the 2012-2013 iEARN Project Book
We are now accepting submissions for the 2012-2013 iEARN Project Book, to be published in September!
To renew or submit a new project please login to the iEARN Teacher's forum. Click on the discussion topic,"Time to prepare the 2012-2013 Project Description Book!" If your project is already active, please simply submit an updated template. If it is a new project, please note that all new projects must indicate that they have an initial group of participants before being considered for publication. Along with the description, we would like to include an image to accompany each project. If you have one that you'd like included, simply include it as an attachment. We ask that the template below be completed in full, with us much detail as possible in the description, and about the project timetable and activities.
To find partners for your project, please share your project idea in the Teachers Forum: http://foro.iearn.org/iearnforums/teachers or, for students, the Yout h Forum: http://foro.iearn.org/iearnforums/youth. In addition, you are welcome to share your new project idea in this iEARN News Flash newsletter by sending a brief description to  Ця електронна адреса захищена від спам-ботів, Вам потрібно включити JavaScript для перегляду .
PLEASE NOTE: We require that anyone submitting a project proposal in iEARN must first recruit a group of classes (either in your region or globally) to participate before the project is launched, to ensure that there will be activity in the project forum once it is announced. In addition, we ask all project facilitators to proactively engage youth in the design and facilitation of projects.
You can find more information about project facilitation in iEARN at the bottom of this page and you can also email the iEARN Project Assistance Committee anytime for help with your project ideas.
The final deadline for updates on projects was May 31st. The deadline for new projects is August 1st., After this deadline of August 1st, projects can be included online, but will not appear in the printed Project Book. In addition, we will archive the projects of any project facilitators who have not renewed their project template by this date so that only active projects appear on http://media.iearn.org/projects.
---
---
Resources, Contests, Websites, and Announcements
New Country Coordinators in Tajikistan
Congratulations to Firuz Baratov and Zebonisio Murodova the new coordinators of iEARN-Tajikistan. iEARN-Tajikistan currently has over 40 active member teachers. This year the organization joined the Global Connections Exchange program.
We look forward to seeing you grow iEARN-Tajikistan, and hearing about the projects and activities you are doing.
For more information on activities in Tajikistan visit their page on the  iEARN International websites
---
Finding Solutions to Hunger Project has a new Feature
When the summer issue of the Finding Solutions to Hunger newsletter comes out in early July, it will include a new feature written and edited by iEARN-USA educator and devoted FS participant, Deanne McBeath or Trenton, New Jersey. The "Teacher Page Series" is committed to helping teachers be creative in how they use Teacher Guide (
featured in last months Newsletter)
Finding Solutions has been one of the most popular projects this year.
Well done Deanne! We look forward to following the series.
Click here to read more about the Finding Solutions to Hunger project and subscribe to their newsletter
---
Local History Project E-Book in English and Chinese
A collaboration that began at iEARN's 2011 conference in Taiwan now has a e-book!  Students at Deguang Catholic High School and their educator, Petty Wu, recently finished their project research for the Local History project.
They created the local history e-books, written in English and Chinese. The books include students sharing their thoughts on topics such as multiculturalism, religion, and culture. Congratulations on using your web 2.0 skills to participate in the Local History project
 Click here to visit the e-book website
---
Survey: Collective Stories of Extreme or Informal Learning
Professor Curtis J. Bonk, in the Department of Instructional Systems Technology at Indiana University would greatly appreciate your feedback in this survey titled, "Collecting Stories of Extreme or Informal Learning." This study explores how people learn (and teach) with technology in unique and nontraditional ways. Dr. Bonk says,  "one strand of this research is on global education and social change such as iEARN. My team believes that users of the iEARN …are ideal participants for this study and invite them to take our survey."
Below is a link to the survey. Individuals must be at least 13 years old to participate.
-The Extreme and Informal Learning Survey - Global Education K-12 Students
-The Extreme and Informal Learning Survey - Global Education Adult Learners
Some additional information from Dr. Bonk, "After clicking on the above link and agreeing to the informed consent form, participants will complete 26 survey questions. Next, they will be asked if they want to answer a series of open-ended items. If they answer "no," the system will take them to the end of the survey for a few final quick questions."
Thanks you for taking the time to provide some valuable feedback.
---
REMINDER: New iEARN Collaboration Centre dates to Remember
In preparation for the new iEARN collaboration Centre which launches in early August 2012, please remember to take note of these dates that will affect registrations, mailing lists and posting of content on the current platform (media.iearn.org)
•    June 25, 2012 - Registration page on the current Collaboration Centre (media.iearn.org) was de-activated.  You can still access the Collaboration Centre, but no new registrations can be made on the site.
•   July 27, 2012 - Current Collaboration Centre will become "read-only," meaning content will be accessible, but no new posts can be made.  iEARN's associated forum mailing lists will be de-activated.
•    August 5-10, 2012 - Launch of new Collaboration Centre (collaborate.iearn.org).  Users will be able to log in to the new Collaboration Centre with their existing iEARN login and password, and will be able to continue accessing the current Collaboration Centre as a "read-only" site.
iEARN-USA will be providing updates as the process moves along. For more information visit:http://www.iearn.org/news/article/new-iearn-collaboration-centre-coming-august
---
iEARN's 19th Annual Teacher and Student Conference. Submit your presentation proposals online
This year's annual conference will be our first virtual conference. The conference will be held November 12-16, 2012. This is an opportunity for us to bring together more iEARN educators than ever before, with the added touch that iEARN has of creating a friendly and personable experience for virtual collaboration. Sessions will be held in multiple timezones and in multiple languages. 
Call for presentations is open now!
To learn more about the conference 
visit the information page on the iEARN International website.
iEARN's 2013 Annual Teacher and Student Conference will be a face-to-face meeting in Qatar.
Upcoming Events
iEARN-Arabia Meeting in Doha, Qatar
July 16 – 17, 2012
The iEARN coordinators of Morocco, Tunisia, Egypt, Lebanon, Jordan, Palestine, Iraq, UAE, Yemen and Qatar will be coming together in Doha, Qatar hosted by iEARN-Qatar to establish the iEARN-Arabia entity and clearly define its vision, mission, goals, status and format. The meeting objectives are to develop a strategy and operational plan and ensure commitments of the attending members. Among iEARN-Arabia's goals are to share and develop educational resources in Arabic language, as well as support the running and spread of the iEARN activities in the member countries. http://www.iearn.org/event/iearn-arabia-meeting-doha-qatar. A great initiative! We look forward to photos and information on the meetings outcomes.
---
Recent Events
Eradication of Malaria Students on Bostwana National Televsion
June 2012
Eradication of Malaria project students from Gaborone Secondary School in Botswana and their partners from Alexander Dawson School in Lafayette, Colorado received a lengthy feature on national television in Botswana. The report praised the students' campaign going door-to-door to raise awareness about malaria prevention. Nine students from Alexander Dawson travelled to Botswana to meet their peers and work together in person on the campaign. Very impressive! The Eradication of Malaria is an on-going project open to everyone throughout the year, however, every summer students from Lafayette and their educator, Bill Meyers, travel to Botswana.
To learn more about the Malaria project and/or join click here
---
About iEARN
iEARN (International Education and Resource Network) is a global non-profit network that empowers teachers and students to undertake projects designed to make a meaningful contribution to the health and welfare of the planet and its people. Started in 1988, iEARN is currently active in over 130 countries, with 2,000,000 students participating as part of their education.  iEARN-International: 
www.iearn.org
[TOP BANNER PHOTO:iEARN-Tajikistan Students in Dushanbe, part of the Global Connections and Exchange High School Journalism 2.0 Program ]
| | | | |
| --- | --- | --- | --- |
| Міжнародні проекти АЙОРН 2011-2012 | | | |
Субота, 29 жовтня 2011, 21:12
| | | | |
| --- | --- | --- | --- |
| iEARN on 11.11.11 - Document your day! | | | |
Субота, 29 жовтня 2011, 08:20
On Friday 11 November 2011, students and teachers from around the world will document parts of their day using video, photography, writing, and other media. We hope you and your students can join us!  For this special event, we are teaming up with filmmakers at www.onedayonearth.org who worked with us last year on 10.10.10.  Keep in mind that this event is not a video-only event. It is also part of our regular iEARN One Day in the Life project, so we will soon be setting up special discussion areas for 11/11/11, including places for students to publish text posts and other media. (Even if your students use video, we ask that you post a link to it in the iEARN forums, so that the younger students and the non-video-making students can view, enjoy, and respond to them.)  Facilitated by Marta Garcia Lorea (Argentina) and Chris Baer (USA).  Learn more about the project, and connect, on the One Day in the Life Project Page.